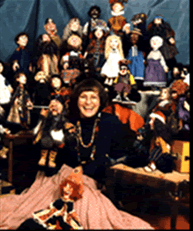 Alice Wallace is a former teacher of the gifted in St. Martin Parish Schools. She has a BA in English Literature and Music from the University of Arkansas, and a MA in English Literature from the University of New Orleans Louisiana.
She takes particular pride in being a Master Instructor in Tae Kwon Do, being able to speak German, and being a puppet carver. She also plays numerous musical instruments.
Hobgoblin Hill regrets losing the inimitable Marcus Quebedeaux, who handed over his place to our two new troupe members, Vanel Porter and Nathaniel Thibodeaux, both multi-talented students from St. Martinville , and now both in college.